Helen Morse stars in a story that celebrates the love that binds families together.
Image: Jeff Busby
"It's the strangest thing. No longer being able to tell what is the past and what is the present…"
Writer Peggy is in her late 50s and has younger onset dementia. Her relationship with the present and the past is beginning to dissolve. If a loved one starts to lose their memories, what role can we play in holding on to them? And how can we care for them in the present while honouring their memory?
Created by KAGE, renowned for making exceptional dance theatre, Sundowner is the result of years of research and community engagement and was the subject of a highly regarded ABC Artscape documentary. It expertly combines theatre and physicality to tell the story of so many Australian families.
Featuring original dancers from the Tivoli Theatre and complemented by original music by Kelly Ryall, Megan Washington and Paul Kelly, Sundowner is an exquisite and powerful story of lament, grief, and ultimately, love, told through the eyes of three generations.
"Morse is splendid…Director Kate Denborough seizes every opportunity to bring to life the collisions between the past and the present happening in the woman's mind"
★★★★
The Australian – read full review here
"Director Kate Denborough's use of conventional theatrical conceits succeeds in enhancing Morse's plight and building emotional depth that hits at a gut level."
★★★★
Herald Sun – read full review here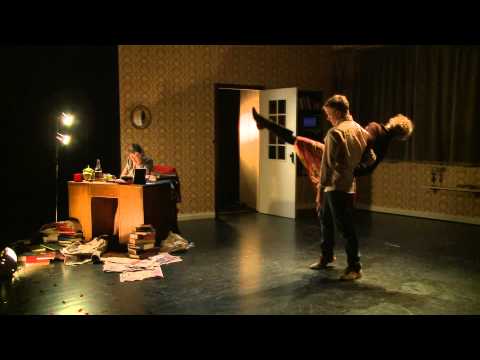 READ MORE…
Time Out article
The Age review
Arts Hub review
The two year process of making Sundowner
Stay in touch with KAGE…
Join their enews
Current dates
Riverside Theatres, Parramatta
5 - 7 March 2013
Glen St Theatre, Belrose
9 - 16 March 2013
Illawarra Performing Arts Centre, Wollongong
19 - 23 March 2013
Cessnock Performing Arts Centre
26 - 27 March 2013
Orange Civic Centre
3 April 2013
Bathhurst Memorial Entertainment Centre
5 - 6 April 2013
Civic Theatre, Newcastle
9 April 2013
Glasshouse Arts Centre, Port Macquarie
11 April 2013
The Arts Centre, Gold Coast
13 April 2013
QUT Gardens Theatre, Brisbane
16 - 17 April 2013
Pilbeam Theatre, Rockhampton
20 April 2013
Mackay Entertainment Centre
23 April 2013
Araluen Arts Centre, Alice Springs
27 April 2013
Queens Park Theatre, Geraldton
1 May 2013
Bunbury Entertainment Centre
4 May 2013
Mandurah Performing Arts Centre
7 May 2013
Northern Festival Centre, Port Pirie
10 May 2013
Hopgood Theatre, Noarlunga
13 - 14 May 2013
Sir Robert Helpmann Theatre, Mount Gambier
17 May 2013
Portland Arts Centre
21 May 2013
Lighthouse Theatre, Warrnambool
23 May 2013
Wyndham Cultural Centre
25 May 2013
West Gippsland Arts Centre, Warragul
28 - 29 May 2013
Albury Entertainment Centre
1 June 2013
Wagga Wagga Civic Theatre
4 June 2013
Wangaratta Performing Arts Centre
6 June 2013
Wendouree Centre for Performing Arts, Ballarat
8 June 2013
The Capital Theatre, Bendigo
12 June 2013
Theatre North, Launceston
14 - 15 June 2013
Theatre Royal, Hobart
18 - 22 June 2013
Clocktower Centre, Moonee Ponds
25 - 26 June 2013
Whitehorse Centre, Nunawading
28 - 29 June 2013
---

A collaboration between KAGE and Alzheimer's Australia, sponsored by Domain Principal Group. Toured by Performing Lines for Road Work, with the support of the Victorian Government through Arts Victoria and the Australian Government through the Australia Council, its arts funding and advisory body and the national performing arts touring program and Playing Australia.
See more in Genres:
Accessible performance, APP Camp, artists, Australia Council for the Arts, BlakDance, Blak Lines, Childrens' Performance, Childrens' Theatre, Circus, Contemporary Circus, Contemporary dance, Contemporary performance, Cross-Cultural, Dance, Dance Theatre, Film, Hybrid, Indigenous, international, international touring, Karilyn Brown, Live Art, Merindah Donnelly, Mobile States, Music, Music Theatre, national touring, partnerships, performance, Performing Lines, Physical Theatre, Puppetry, Road Work, sector development, Theatre, touring, Visual Theatre, William Yang, Youth